LETTER FROM FRED & GAIL HOOPER
Galapagos Islands & Machu Picchu
24 November - 11 December 2006

Casa Aliso, Quito, Ecuador.
Photo: Casa Aliso.

January 7, 2007

Hi Martin,

Just wanted to drop you a note about our trip, Galapagos & Machu Picchu, overall we truly enjoyed it, we are always amazed at how diverse South America is, and how friendly the people who live there are!

The trip down was uneventful and being met by George and Patrice in Ecuador was a real delight! George was the first person we saw as we left the customs area holding a sign with our names on it. Patrice was waiting right outside the airport door to whisk us away to our boutique hotel! The hotel was beautiful and we really enjoyed the room and the gardens (which our room looked out over). We arrived late so we where glad that we would not be going anywhere for dinner, they fed us on the plane. This was not a problem since we elected to have dinners on our own. It may have caused us some concern if we had not taken this option since it was in the itinerary. The next morning we had an excellent breakfast, Patrice met us at the hotel to take us to the airport, and George met us at the airport to take care of all of our needs, he even made us a hit with others on the Parranda by helping them. Off we flew to the Galapagos, thanks to George we didn't even have to wait in line!

Parranda, Galapagos Islands.
Photo: Quasar Nautica.

We arrived in the Galapagos and were met by our guide Fabian from the Parranda, he took us off to get our wet suits (thanks again for that suggestion, it was the only reason we could snorkel and for both of us it was a real highlight!) We really enjoyed our week seeing unique species and swimming with the sea lions and turtles. This was a more strenuous portion of the trip than we anticipated; we climbed over rocks, walked across lava fields and climbed enough stairs to feel like we might just reach heaven! The guide would not take a credit card for his tip, and the crew tip suggested in the onboard Parranda information sheet was double what you gave us. They struggled so much with credit cards that we ended up going to town to get ATM cash for the guide tip, crew tip and bar bill. Another note about the boat information passed to you; the beds in cabin 3 were twin, not king and could not be moved. The food on the Parranda was good and substantial. The crew went out of their way to make our stay pleasant with fun towel and fruit sculptures!

Sea turtle, Galapagos Islands.
Photo: Bonnie Pelnar.

Back to Ecuador, met once again by George and Patrice, taken to our small hotel, given "our" room, a fast shower and off to dinner for Gail's birthday, we decided to pass on dining at El Theatrum and went to the top of the mountain to El Escondite de Cantuña for dinner that was scheduled for our arrival evening. We were the only guests, they had a band play for us and we had a lovely evening! Touring the next day was exciting since we where there during festival and many of the churches and access roads where closed, but George and Patrice made the best of it and took us to unexpected destinations! Oh no, Fred's not feeling well!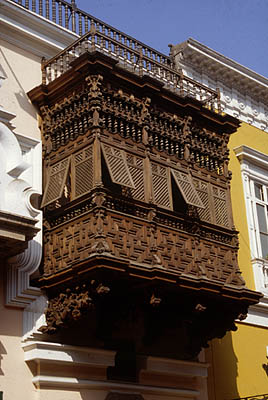 Wooden balcony of the Torre Tagle Palace, Lima.
Photo: Renzo Uccelli.

On to Lima, taken care of gently once again by George and Patrice, we where delivered to the airport and departed with a concerned air crew because Fred had mighty chills! Upon arriving in Lima, Mariela and Manuel met us at the airport and took us to the Country Club Lima Hotel, requested a doctor with Mariela's help and Fred was well taken care of from there. Alberto met Gail the next morning and gave her a wonderful tour of the Lima area without going downtown as we requested a trip back to the hotel to pick up Fred for lunch and the city tour that was scheduled for the morning. Alberto never missed a beat and Gail had a great time! The rest of the trip in Lima was wonderful with help from Alberto and Mariela Fred stayed on his chicken diet prescribed by the doctors and began his road to recovery!

We took off for Cuzco and the next leg of our vacation with some food and drink restrictions for Fred but with new found friends in Lima, and a couple of doctors that Fred would have liked to take home with him!

Sol y Luna Lodge, Sacred Valley of the Incas.
Photo: Sol y Luna Lodge.

Cuzco, Maria, Miguel and Sheila all met us at the airport, they where aware of Fred's condition and gave him Coca tea upon arrival and Sheila and Miguel treated us wonderfully while they escorted us to the Sacred Valley and Machu Picchu! What a wonderful few days these where! The Sol y Luna was exceptional except for the breakfast buffet. They really should do an order based breakfast, the buffet was not very good both mornings, but the hotel itself is wonderful! Gail loved the animals, especially the horses, and would recommend that you let people know about the options at the hotel, with time available we probably would have gone riding! Peruvian horses are unique and it would have been exciting to feel their gait. The train to Machu Picchu was wonderful, we ended up on the wrong side to see things, but could look over fellow travelers heads and get good views.

Citadel of Machu Picchu.
Photo: Mylene d'Auriol Stoessel.

Machu Picchu was a wonder, the Sanctuary Lodge perfect, you cannot get in before everyone else or stay later than everyone else inside the ruins, this was a bit of a disappointment, but nothing else was! Even breakfast here was outstanding! Please tell people who want to come that it is very strenuous if you want to see everything, which of course we did!

Courtyard of the Hotel Monasterio, Cuzco.
Photo: Orient-Express Hotels.

Cuzco was a real treat as well and the train back was a beautiful ride, we where on the viewing side for the unrepeated travel terrain this time! Miguel and Maria met us at the train station and took us to the Hotel Monasterio. We where shown to our room with oxygen and did not understand why it was so hot! We did not want to open the windows, sort of defeats the purpose of the oxygen so we turned on what we thought was the air conditioning, opps that was the heat! Boy, it was really hot when we returned from dinner (which was wonderful), and cranked down the temperature some more and turned up the fanstill hot! Next morning we had breakfast, boy we've been treated better at McDonalds, we where really surprised! Then the hotel wanted to clean our room, opps we weren't out yet, but they have a schedule so they plowed on, Gail asked them to leave, they kept coming back before we were done, is this a five star hotel? Oh yes, they got us someone that spoke English in the afternoon to let us know that our room did not have air conditioning and they would bring us a fan, it was about 78 degrees in the room. We had a wonderful tour of the city and a memorable dinner at the private art museum with excellent entertainment! We hated to leave Shelia and Miguel behind, and Maria had called every day no matter where we were to see how Fred was, they make an awesome team!

House of the Virgins of the Sun, Pachacamac, c. 1500 AD.
Photo: Mylene d'Auriol Stoessel. Luxury Lima Tours & Travel.

Back to Lima, Alberto and Manuel met us at the airport, and it was like a meeting of old friends! We had a great day touring and then back to the hotel for some rest and refreshment! It was Sunday; the hotel does not serve its full menu, and has limited English speaking help in the dining room. At first we where quite distressed, our last night in South America and things where not looking so good, but as all travelers do we where flexible rolled with the circumstances found dishes that looked good off the limited menu, used pantomime and pointing to get our wishes across. Soon it was off to the airport for our flight home.

We are sharing these experiences with you because you had been so helpful and insightful in setting up the trip for us that we thought we would let you know where everything was perfect and as expected and where things are a bit different than what we expected. Again, we had a wonderful time and felt well taken care of because of your extensive planning.

Sincerely,

Fred & Gail Hooper

© 2013 Marcia Brandes. All rights reserved.